INFINITY OF HEAVEN tea pot stand black terra Qin Dynasty terra reborn series
The design inspiration of INFINITY OF HEAVEN originated from on an ancient Qin Dynasty tile-end discovered in Hua Yin county in Shaanxi in 1998.  The location used to be a important granary supplying the capital for the dynasty and the tile-end shows the elegent and delicate of the architecture of the time.  It is a 14.8cm circular tile end, which is used to decorate the tiles as the last piece close to the eaves.
The four characters on the tile-end read "与天无极" in ancient Chinese characters and the  meaning is "INFINITY OF HEAVEN"
Master Xu adopted the design and produced this elegant tea pot stand in 2009. 
Size: 19*19*4cm

Net weight: 2.3kg
Gross weight: 4kg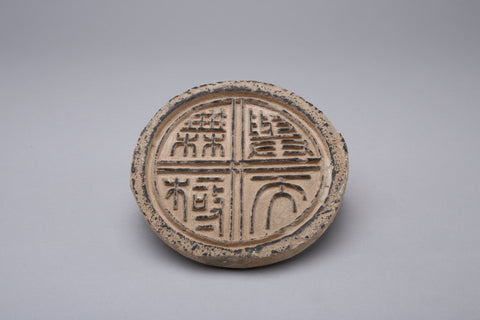 Above is the relic preserved in China's WeiNan city museum.
Note:  The products are all hand made and created from a traditional coal kiln after 10 hand kraft procedures lasting about 200 days.  Each product is unique and the color and touch varies to each other.  We cannot guarantee the one you receive is 100% same as the pictures.  We beleive you understand this and we hope you enjoy your time with our terras.