INKSTONE - TaoTie pattern from Qin Dynasty
The INKSTONE was designed by artist Haifeng Xu featuring ancent China TaoTie (饕餮) , which was an ancient Chinese mythological creature that were commonly emblazoned on bronze and other artifacts during the 1st millennium BC. Taotie are one of the "four evil creatures of the world". 
Inkstone is Chinese in origin and it is used in calligraphy and painting. Extant inkstones date from early antiquity in China. The device evolved from a rubbing tool used for rubbing dyes dating around 6000 to 7000 years ago.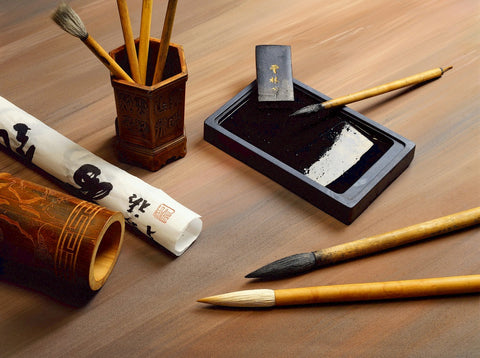 An inkstone is a stone mortar for the grinding and containment of ink and it can be produced with clay, broneze, iron, porcelian or terra, like this one.
Size: 26.5*17.5*4cm
Net weight: 2.9Kg
Gross weight: 4kg
Note:  The products are all hand made and created from a traditional coal kiln after 10 hand kraft procedures lasting about 200 days.  Each product is unique and the color and touch varies to each other.  We cannot guarantee the one you receive is 100% same as the pictures.  We beleive you understand this and we hope you enjoy your time with our terras.