ENDLESS HAPPINESS coaster- Black Terra Reborn Series - Qin Dynasty
ENDLESS HAPPINESS  coaster is a simple and elegant table coaster designed by master Haifeng Xu in 2018. The inspiration was a ancient tile end from Han dynasty and unearthed in Gansu province in 1998.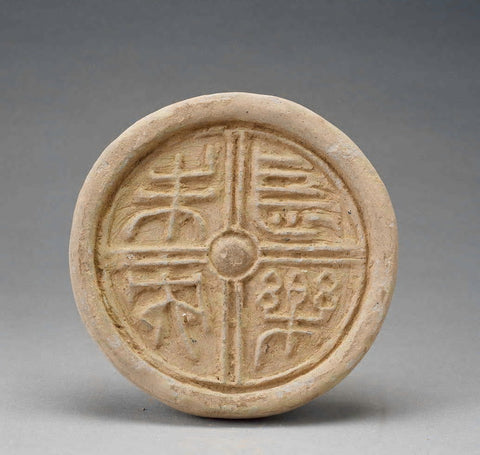 The four ancient Chinese  characters read "长乐未央", meanning endless happiness never stop. Tile end was used to decorate ancient Chinese architecture and many components bearing people's wishes for better and healthy life have been used in the long history passed and became a carrier of the Chinese culture through the time.
 Size:9.5*9.5*1cm
Net weight: 340g
Gross weight: 1kg ( pair)
* The price is for 2 pieces and they come in pair in a well designed gif box. 
Note:  The products are all hand made and created from a traditional coal kiln after 10 hand kraft procedures lasting about 200 days.  Each product is unique and the color and touch varies to each other.  We cannot guarantee the one you receive is 100% same as the pictures.  We beleive you understand this and we hope you enjoy your time with our terras.